What happened to my Monday?! Normally, my absolute least favorite day of the week, but it wasn't so bad overall... it just went by way too fast and I wasn't able to get around to everything on my To Do list.
So, in no particular order, here's my Monday in a nutshell:
=====

the

boys=====
Jace has been riding on two wheels for several months now, but he is....
was...
still rusty when it came time to put on the brakes, getting around obstacles and what not. And Joey always complained about his training wheels being "all messed up", so we took the training wheels off his bike on Sunday and more or less told him that it was time to make the leap to two wheeling. That it was now or never. It took a LOT of help and encouragement at first, and then I spent a good part of today watching them both practice in the driveway and up, down, and around the backyard. But by the end of the day they had progressed to begging me to let them take a ride around the block. I caved (secretly, on the inside I was in total panic)...
I'm a bad scrapbooker! I haven't taken pictures myself yet, but I managed to snag one off of hubby's phone. There will definitely be more bicycle pics and/or layouts to come!
(mini layout credit:
Ready 2 Go
by
Tania Shaw Design
)
=====my creative team=====
Six of my creative team members are competing in the Battle of the Creative Teams at Digi Scrap Addicts! Check out their amazing layouts for round one and please help me cheer them on!!
Tania, Kim, Kimberly, Robin, and Melinda are designing for me via Team Jessie's Girls, in the designer category. You can see all of their amazing layouts
HERE
. And Jenn is designing layouts for the Studio Crew, in the store category. See Jenn's and the rest of the Studio Crew's layouts
HERE
.
Find links to
vote for your favorite team
HERE
.
=====my computer=====
It sucks. My internet sucks even more. Enough said.
No seriously. I am considering purchasing a new EHD, dumping all my stuff in it, and reformatting my hard drive. I've never done had to endure a reformat before, and I'm not sure if it will help with the issues I'm having, but right now multi-tasking is out of the question and it's very frustrating trying to do just about anything that involves running more than one program at a time. As much as I'd love to toss this laptop out the window, I can't afford to splurge on a new one right now. What to do, what to do???
=====around the house=====
Since my computer isn't playing nice, it is easier to avoid the stress and focus on something else. So my focus has been on housework the past few days. There has been lots of de-cluttering and flinging and making time for those once-every-couple-of-months chores like cleaning the ceiling fans, vacuuming the mini-blinds (OK, I honestly do not clean the mini-blinds more than twice a year), dusting off the tops of doorframes and windows, etc... and then of course the neverending pile of laundry and trying to keep dishes clean (by hand even, my dishwasher also isn't working the way it should! grrrr!). It's almost to the point of resorting to FlyLady techniques, but for now I am holding out hope that the mundane things, like housework, will flow a little more smoothly once the boys are all back in school and we have a little structure added back into our daily lives. Just a few more weeks!
=====designs=====
Needless to say, there has not been an opportunity for me to create
new
designs so my focus has simply been on redoing previews of my older (although most favorite)
stuff
and getting those things added to
my FPD shop
. Like everything else involving my computer, that seemed to be easier said than done when it came time to upload the zips. Grrr! More frustration! But I did make the deadline with
my half of Whatever Mama!,
a gorgeous collab
Tania
and I worked on together good while back.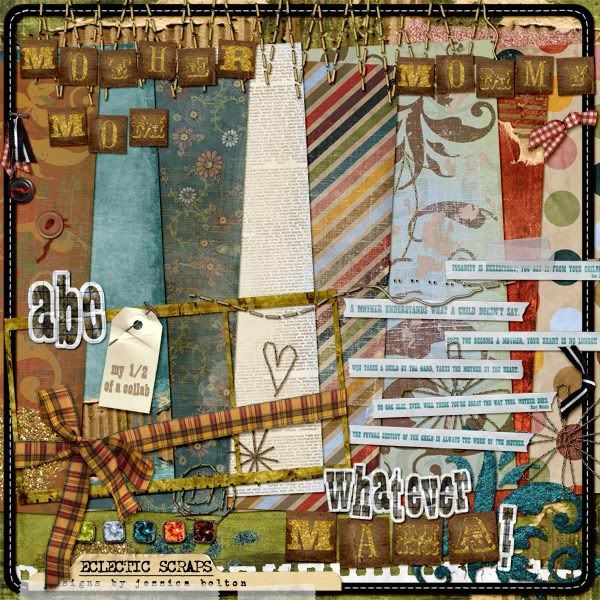 More favorites to be added (and
possibly...hopefully
more blogging!) in a few days on Lost & Found Thursday!