It's true. I've had this little nagging thought in the back of my mind for a while now. Maybe it's always there, only I have gotten so used to suppressing the urge to squirt glue for so long that it hasn't bothered me so much. But lately, since I made the decision (just about a week ago) that I want to convert the downstairs "kitchen" into my "studio/office", that little voice just won't shut up. It is saying "hurry up and make some progress already so you can CREATE!"  Folks, it has been a looooong time since I've gotten my hands dirty! And I
really
miss the feeling of peeling Mod-Podge (my #1 adhesive of choice) off my fingers, elbows, and clothes! Most of my scrap/crafty stuff is already stored in the cabinets in the area I want to convert so not having to move a lot of stuff is a bonus. Not to mention that having a real office combined with a real craft space, (not just a corner of the dining room where my desk is currently crammed and piled high with papers, baskets and sorting racks - a failed attempt at organization) would be
NICE
. We have a tiny house as it is, so it's a shame to let that good space go to waste. Now, if only we'd win the lottery!
Below are some of the altered/hybrid projects I've created in the past. These are all old images, scrounged up from my Photobucket account, but I thought they'd be fun to share again since my old blog posts are gone. Keep in mind that these are all
old
projects - I was altering and doing a little hybrid stuff before it was cool. Hehehe. But like I said my hands are aching to get dirty again one day soon! My head may explode with ideas before the time comes.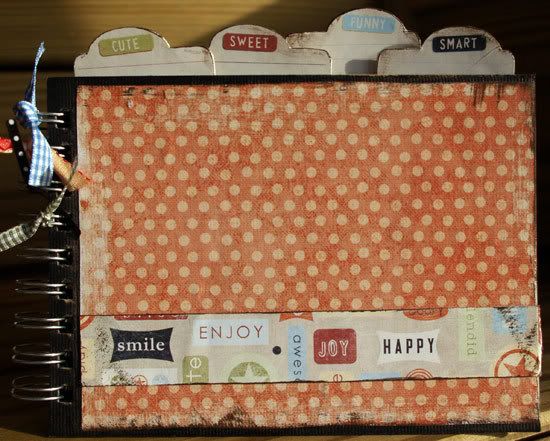 Above: One of my favorite hybrid projects, despite being very simple. I used a plain black mini scrapbook. Covered the book with papers by Shabby Princess of
The Shabby Shoppe
, added the tabs from the kit to the inside and a few ribbons. Originally I was going to put in snapshots of the boys, but after our boxer, Missy, passed away ... we filled it with pictures of her. It has actually held up nicely considering how much it has been used.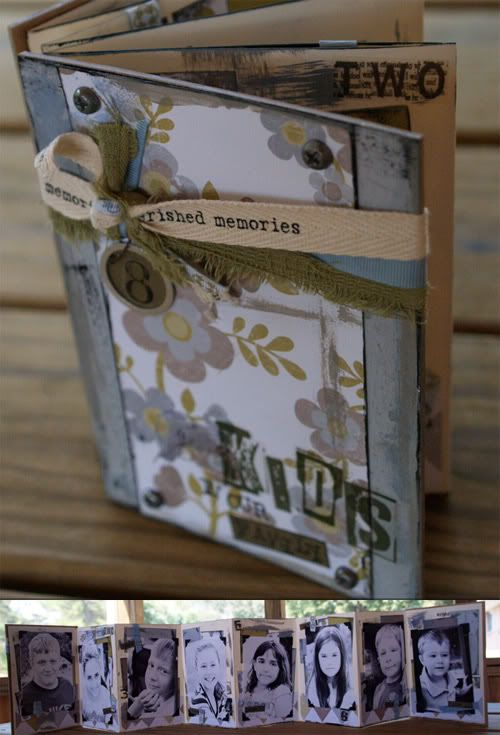 Above: I made this accordion album as a birthday gift for my mother, and filled it with black and white photos of all of her grandchildren.The picture really doesn't do this book justice.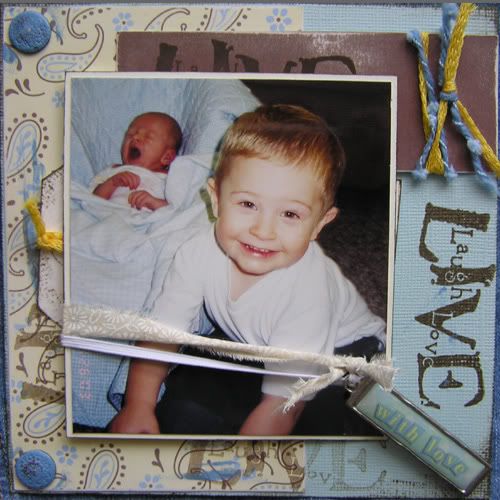 Above: This is not an altered or hybrid project, but one of the last few 100% hands-on paper pages that I created. Paper, ink, and paint, oh my! I miss it all! And those two adorable baby boys are the reason I really had to switch over to almost 100% digital. I was tired of little hands swiping my ink pads, tubes of paint, etc... and creating a disaster with them. LOL. So easy to blame the young'uns, huh?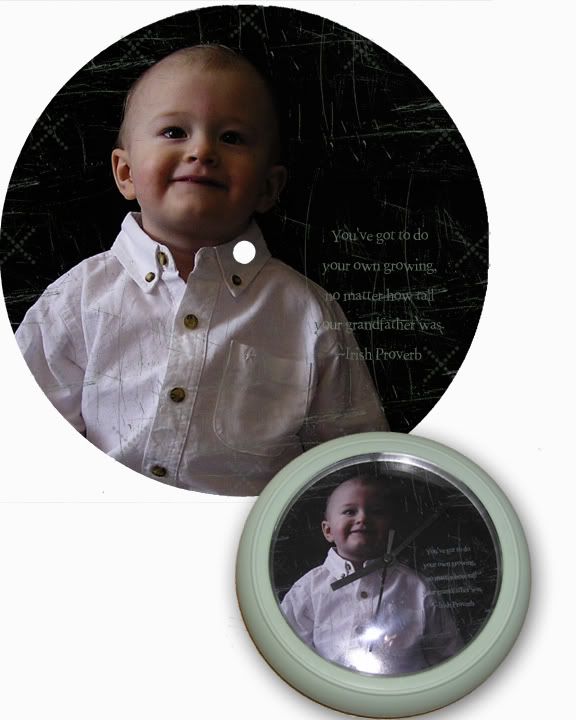 Above: I made this altered clock as a super quick Christmas present for my Dad. I wish I'd laid off the distressing of the photo a bit, but it still turned out awfully cute and was a nice touch for Dad's office. I keep saying I'm going to make one for myself. One day, one day....
Above: An altered box that I made for my sister-in-law for Christmas many years ago. It was filled with handmade cards, too. After all these years, I still love, love, love me some
Basic Grey
paper. I haven't bought any in a very long time, but I have enough of the old stuff to last the rest of my life. No lie. :) Finding this box reminds me of another phase I went through, but can't find any good photos for (I'll have to dig out some dvd's to see if I still have them): altered cigar boxes. Those things are cool, and very useful for storing alpha stamp sets, and other little odds and ends. Once my new space is ready, quite possibly in 2020, the first thing I'm doing is sending my husband out to all the tobacco places to collect more boxes for me to alter.
Above: This photo of an altered wooden frame is actually one of this years 365 photos. I was looking for something to take a picture of, and this is what Joey suggested. I remember this being quite a messy project with all the layering of paper strips and Mod-Podging, but also one of the most fun. Another project that I wouldn't mind trying again and again.
Editing to add one last project I scrounged up...


Above: Quick and easy hybrid altoid tin using Shabby Princess'
Smarshmallows Piece-A-Cake Altoid Tin Album
.
Thank you for taking this little trip down memory lane with me. We will have to go again some day when I am prepared with more photos, not just what I can find in my Photobucket account.