Simply put - deadlines and I do not get along. In my opinion, all deadlines should have a grace period, you know... like utility bills and mortgage payments.
When I signed up for the SYTYCD contest it was about more than winning the prizes at the end. It was more of a personal challenge to see if I was ready to get back into designing. Releasing new products consistently was never one of my strong points and something I wanted to improve upon before I began selling again, so I figured if I could make myself keep up with the challenges then I could most definitely fall into the routine of designing and putting out new products on a regular basis. But I digress...
I don't want to be a whiner and make a bunch of excuses for not finishing my week 2 entry in time, but this has been a horrible week! To make a long story short(er) - it started off with my oldest son coming down with a fever and cold like symptoms on Saturday night. The poor guy, he spent most of Mother's Day in the bed, but fortunately he bounced back quickly and went to school late on Monday. Unfortunately, that afternoon I started coming down with the cold, too. I spent most of Tuesday in the bed. To be honest, I would have stayed there all day long if I'd been able to. I've always had a high tolerance for pain, but give me a fever with body aches and I'm a big ol' baby! Wednesday I felt well enough to
start
working on my contest entry. I had this nagging feeling in the back of my head that I'd never finish it in time, after all... I am a s-l-o-w designer, but I worked on it every spare minute for two days (can you say carpal tunnel syndrome? LOL) and finally finished it up 30 minutes before what I thought was the deadline (thought it was 11:59 pm
CST
) and tried uploading it. My internet connection at home is horrible these days, but I never thought it'd take 2 hours to upload! If it'd been earlier in the day I could have gone to find a wifi connection or over to the shop, but at that point I was too stressed and tired to move. The really funny thing is that because I had the time zone mixed up, I got all mad at 4shared for nothing. I would have been an hour late even if my zip had uploaded at a normal rate of speed! LOL Ahhhhhhrrrgggg!!! Although it is embarrassing that I had to drop out, now that it has sunk in, I am feeling a bit of relief. The deadlines can kiss it! ;)
So here it is (please excuse the sloppy preview - I could have done better, but I'm too lazy to go back and do it again now that I'm not stressing to meet a deadline). If you have my previous Delight in Photographs kits, then you might recognize a couple of the patterns in this kit. I can never get enough of these colors together, and since I didn't have time to create quite a few designs that I'd sketched out... there just might be a number four, or an add-on pack at the very least, coming out in the near future.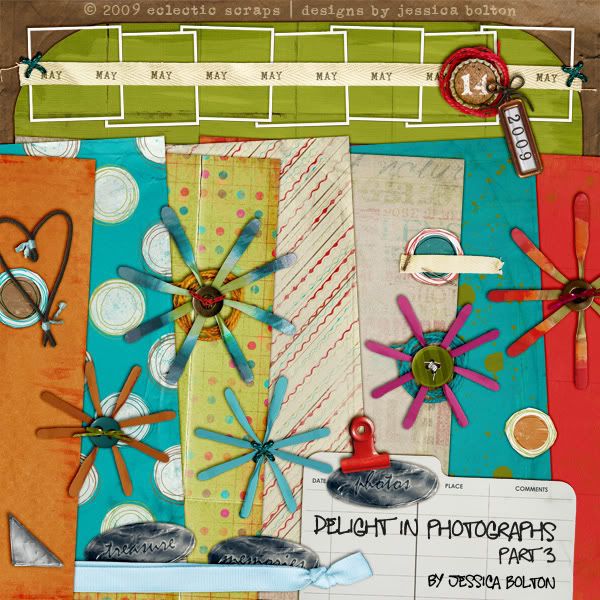 If you like this kit and want to share it with your friends, please send them here to pick it up.
No file sharing. Thanks for your cooperation!!


[free download has expired. thank you]
There's a ton of laundry and housework to be done this weekend, but I am hoping to send the kids off, kick my feet up, and actually do some scrapbookin' with this kit SOON. If you create anything using this, I'd love to see it! Thanks!